It's fun and camp, with a trio of wicked witted witches, so it's no wonder Hocus Pocus has made a fierce comeback for its Silver Halloween Anniversary. To celebrate of 25 years of the Sanderson sisters on screen we look at some of the fun facts from the film.
The cast could have looked very different…
The role of Max Dennison was originally offered to Leonardo DiCaprio. He turned it down to appear in What's Eating Gilbert Grape which was also released 1993 and earned him his first Oscar nomination. Omri Katz, who eventually took the part of Max, was unwell at the time of his first audition and was initially rejected for the part. The Sanderson sisters could have been very different too as the role of Mary Sanderson was originally offered to Rosie O'Donnell and Jennifer Lopez auditioned for the role of Sarah Sanderson.
Bette LOVES the film, like, really loves it…
During a February 10, 2008 interview on the BBC show 'Breakfast', Bette Midler stated that this was her favourite of all of her films. Her other favourite film role, according to her autobiography was voicing the poodle Georgette in Oliver & Company. If, like us, you follow Bette Midler on Instagram; you'll have seen this affect first hand as she has been sharing pictures of the Sanderson sisters throughout October. Sarah Jessica Parker has also shared her love for the film saying that she enjoyed being in the flying harness so much that she would stash a copy of the New York Times on her person and read in the air between takes.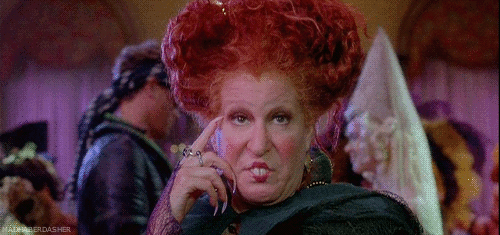 References to Bette Midlers other work…
When Bette Midler takes the stage at the town Halloween Party, she says "Hello Salem, my name is Winifred. What's yours?". This is a take-off of the famous line, "Hello world, my name is Rose, what's yours?" spoken by Mama Rose in the musical "Gypsy". Midler played Mama Rose in the television version of Gypsy the same year this film was released.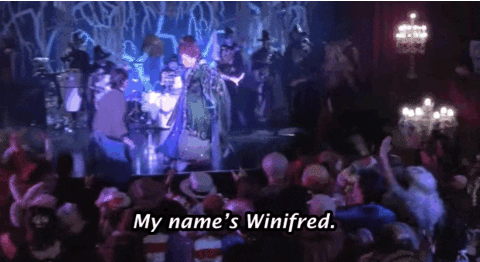 Real insects were used (and eaten!)…
At the end of the film, Billy Butcherson pries open his mouth and coughs out dust and moths. Doug Jones who played Bill revealed the moths that come out of his mouth in the scene are real. Sarah Jessica Parker also gets a mouthful of creepy crawlies as when Sarah Sanderson puts a spider in her mouth to seemingly eat it. Parker recently revealed that she actually ate the spider.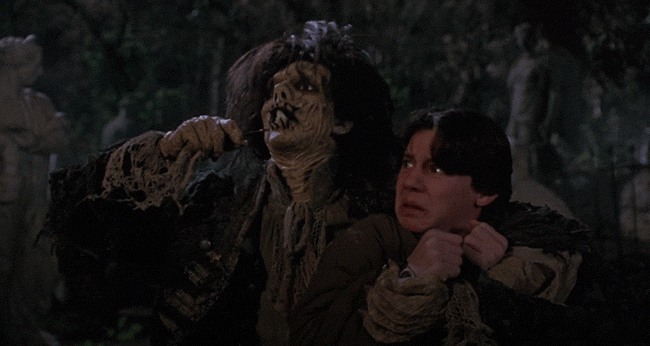 You may not recognise everything in the film's trailer…
Several scenes appear in the original trailer that are not included in any theatrical, VHS, or DVD version of the film. They include the kids attempting to push the witches into a pool, the witches being surrounded by trick-or-treaters holding out their hands, and Mary snacking in a grocery store only to be dragged out by Winifred.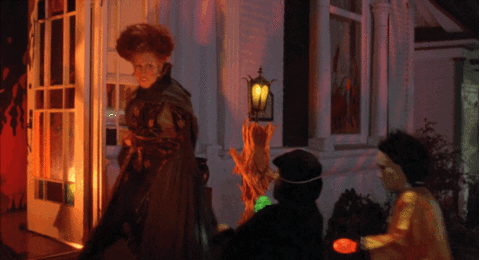 Sarah Jessica Parker's witchy past…
In the film, Sarah Jessica Parker plays a witch who was executed during the Salem Witch Trials. While researching her family history for the show 'Who Do You Think You Are?' In 2004, Parker was shocked to discover that her 10th great-grandmother, Esther Elwell, was arrested in Salem in the late 1600s for committing 'sundry acts of witchcraft' and choking a neighbour to death. Esther's case never went to court, she escaped with her life and the accusation ended the Salem Witch Trials. Parker said, 'It has changed everything about who I thought I was.'
It may never have made to the cinema screen…
Disney bought the script way back in 1984, then sat on the project for eight years. The original title was 'Disney's Halloween House' and was intended to be much darker and scarier. Rumours that Disney considered turning it into a made-for-TV movie at one point have spread over the Internet but have not been confirmed by the cast and crew.
It was originally released in Summer…
The film was released in America in July of 1993, this was so it wouldn't compete with The Nightmare Before Christmas, Disney's other Halloween release that year. However, for us in the UK we had a release date of  29th October which made a lot more seasonal sense. It has became increasingly more popular over the years, now appearing on television regularly during the month of October.
We screen this Halloween classic here for free on Wednesday 31st October at 6.30pm. Email hello@thistimenextyear.co.uk to book your free place.
Know more facts about Hocus Pocus? Share them with us on social media:
Twitter – Instagram – Facebook
Information Source: IMDb.com